Beata of Hedgehog Fibres has a new pattern. Meet Squared (
a free pattern
) that is knit with a double strand of fingering weight yarn.
Simple modular poncho design with an applied i-cord border. No need to pick up stitches all the way around, yay! You will be holding two strands of different colours for a marled effect. The poncho is knitted in sections that are attached as you go. Easy and fun project, incorporating lots of different colours of fingering weight, so go dive into that stash!
Beata used Hedgehog Sock for the poncho. We have a lot of colours in stock with more on the way. We should see another shipment by the end of the month.
650g of Hedgehog Fibres Sock Yarn in a variety of colours, full skeins or Minis. I have used my leftovers and some Potluck

TM

colours. To achieve a similar colour story, I'd recommend the following: Full skeins in Iris, Bollywood, Fool's Gold, Foam, Piggy Bank and Heyday and Minis in Guppy, Dijon, Down By The River, Skinny Dip, Typewriter and Coral.
We have mini skeins in stock and more will be in the next order.
See the colours...
I have started a page about the Food Drive.
I will continue to update the page when prizes arrive and when I hear back from suppliers who are going to donate.
Check the list - Hedgehog is sending something. YAY!
Keep watching - my suppliers have been amazing with what they are sending
Alex was in today and she is working away on my shawl. I love the colours! According to the pattern she has two wedges to go and then it is finished. That isn't big enough. We're continuing on to have a great sized shawl.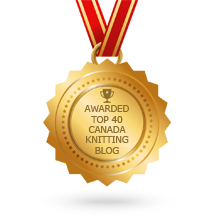 We are listed in the top 40 knitting blogs in Canada.
Take a look at the list.
I have 14 rows to go on Kimba. Sadly I will be putting it away for two weeks. I'm on a roll.
Even sadder. I just got home and realized that I don't have needles here to start Lilli Pilli in the morning. 👎👎
I set my post aside for a few minutes to print my pattern and then it hit me. I have my Lykke needle set here. I have needles!!!